Warzone has just been updated to version 5.07.1! This blog post describes what's changed.
The website has been updated to this version now. The Android and iOS apps will get this version over the next week or so.
Warzone Idle Battle Royale
Warzone Idle is now offically multi-player!
Warzone Idle now has a new battle royale game mode, called battles for short. In battles, you compete with up to 30 other players to be the first to complete a real-time idle level.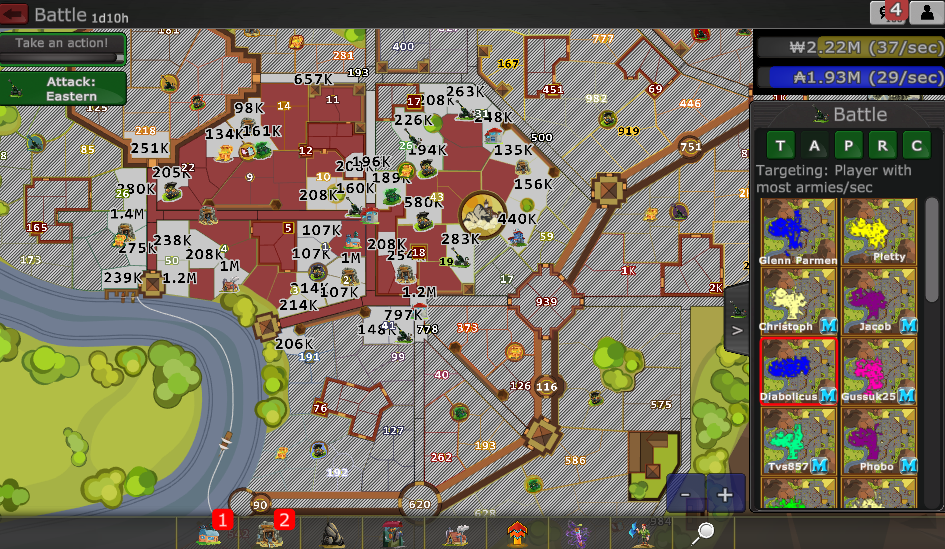 All players participating in a battle will be given the exact same idle level to complete. Your goal is to conquer all territories as fast as possible. In the Battle Panel on the right side, you can see the progress in real-time of all other players you're competing against.
Battles run at an accelerated rate, which allows completing an entire idle level in just a few minutes.
You'll find attacks on the map. Click the Attack button to launch these attacks at another player, which does things like destroy their army camps, mines, and more. You can only hold one attack at a time, so if you pick up a second one without using the first it will immediately launch the second attack at another player. Note that an attack cannot destroy the army camp you start with, so it's never possible to get completely stuck.
You can only take an action every 4 seconds. Actions can be things like conquering territories, upgrading an asset, drafting, activating an artifact, etc.
All of your advancements can be used during the battle. Auto-advancements, such as auto-conquer, don't count as actions and therefore are very valuable. For this reason, owning the auto-conquer advancement is required to join a battle.
The artifacts you have equipped (up to 3) when starting the battle will be the only ones you can use during the battle, so make sure to arrange your artifacts before joining. Since time runs at an accelerated rate, you can likely activate artifacts multiple times during a single battle.
At the time of this writing, battles are available once per hour at the top of the hour (when your clock says :00). To join a battle, head to the Warzone Idle main menu at the start of a hour and click Battles in the lower right corner. Battles will become more frequent as the update rolls out across devices and more players become aware of the feature and eligible to join.
Other Changes
– Idle Battles: Added rewards.
– Idle Battles: Removed draft indicators when you can't draft.
– Idle Battles: Increased game length to make it less chaotic.
– Idle Battles: Reduced size of neutrals made from attacks.
– Idle: All levels we re-generated. This could cause costs, asset locations, recipes, etc. to be changed slightly. If you were in the middle of playing a level when you update to this version, you'll keep playing the old version of the level. But all new levels started after updating will be on the new version of the level. For those keeping track at home, these new versions of the levels are called revision 12. Note if you start a new version of a level, then switch to a device using an older version of Warzone Idle, you won't be able to play it there. Please update all your devices to the latest version to avoid this.
– Idle: Added Super Camp.
– Idle: Increased smelter/crafter profitability.
– Idle: Tuned ingredients used in crafter recipes so they don't always pick the cheap resources.
– Idle: Changed territory order so levels are a bit less likely to follow super bonuses so closely.
– Idle: Refined artifact sand swipe.
– UJS: Fixed attack dialog not using typed army numbers if you closed it very quickly. Thanks to Legolas for reporting this.
– UJS: Ticking the "show example army numbers" box in the map designer or map preview now disables the zoom-scaling feature. This helps map designers know if their army numbers fit according to the map requirements.
– Unity: Added a button to view your own profile on the website.