WarLight has just been updated to version 3.12.4! This update brings new images for cards, as well as a few minor improvements and bug fixes. This blog post describes what's changed.
New Card Images
WarLight has new graphics for all 13 cards! This is just a graphic change — the functionality of all the cards remains the same.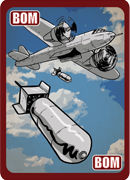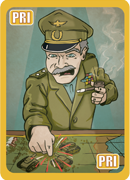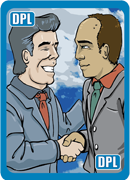 The images were drawn by Sam Trout
Other Changes
– When a game ends due to elimination, orders now stop executing immediately instead of playing out the rest of the final turn.
– Added an icon for games that use commanders on the multi-player dashboard.
– On the map page, removed the links to create a game if you aren't a high enough level to use the map.
– Multiple commanders can no longer die in a single attack/transfer order. This was only possible when offensive and defensive kill rates were set to 100%. The defender's commander will simply not die.
– When loading templates, players who aren't on your invite list are preserved. This fixes a bug when creating games that caused players that were added by searching to disappear when clicking Change Players.
– Fixed a bug in the My Games section that caused the team icon to not appear on games in the lobby when random teams were enabled.
– Fixed a bug that made single-player templates created via the "start with this map" link be considered built-in templates.
– Fixed a bug that made the AI sometimes attempt to send its commander to multiple territories.
– Fixed a bug that caused tournaments not use the description that was entered when it was created.
– Fixed a bug with the sockets feature that caused it to not receive updates if multiple clients were connected from the same IP.
– Tournaments exported to challonge now set the "quick advance" flag.