This is a thread aimed at BRAND NEW players and is started by a not so good player :P to discuss the things I've been learning and being taught by very helpful and much better players on my recently started Warzone Stream channel. (
I used to drop imgur links in chat, which caused alot of time delay boots)
. If you see me streaming and want ask questions in real time or want to help me learn in real time I wholeheartedly encourage you to do so.
https://www.twitch.tv/backpack_benry
The intention of this thread is to have each reply be a a simple, yet clear and informative explanation of one particular topic or aspect of the game. There is plenty of detailed threads on particular subjects and you can feel free to link them in your explanation, this is intended to be a place for somewhat brief explanations.
This is welcome to anyone else who wants to also provide their opinion on particular topic. Pick a subject/topic and make a post. I encourage you to use a similar format to what I use below to make it easy for people to find a particular topic brief.
I'll add more post's myself as I learn things, but for now I'm going to start with something that, for a beginner, can be complex when you all of a sudden get thrown into it for the first time,
Multi Attack
---
Multi Attack
-ICON

-EXAMPLE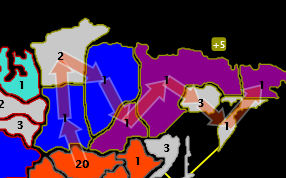 -USER EXPLANATION
Multi Attack is something that when you're new and have no idea what it is, you're gonna have a bad time until you get the very basics. Your enemy will be at your front door much faster than you anticipated, here's why:
Multi Attack means that instead of attacking a space and then stopping. You are able to order another attack to another space, and then another, and so on... This is sometimes referred to as 'chaining attacks'. You can make this order almost forever, meaning that you could advance any number of territories in a single turn, but once you run out of troops any additional moves won't be able to be completed.
In the above image we see a single turn order. The Orange player with 20 troops would, after their movements, own all of those territories and be left with something like 12 or so troops in the right most territory.
-FROM THE FORUMS
There wasn't a real lot on the forums in terms of multi attack advice as such, alot of discussion just not many tips or better explanations that I could find. So no links to drop.
-FROM THE WIKI
https://www.warzone.com/wiki/Multi_Attack
In a normal game, each army can only be given one order per turn. For example, the same army cannot attack from A to B then attack from B to C in the same turn.

When Multi-Attack is enabled, armies can follow any number of attacks in a single turn. This significantly changes the way the game plays.

In multi-attack mode, you can issue orders in succession which can allow armies to travel long distances as shown:
-ADDITIONAL NOTES FROM USER
I would like to thank the users who visit my stream and take the time to teach me about these things.
Here is a short clip of me being taught about multi attacks. Full disclosure I'm neither a great player or streamer. I just do both because I enjoy it.
https://www.twitch.tv/backpack_benry/clip/PeacefulBombasticCurlewVoteYea
Game link also
https://www.warzone.com/MultiPlayer?GameID=21296068
Edited 3/29/2020 16:52:27