Anyone in the clan league can submit templates for consideration here. The deadline for submissions is two weeks from the time of this post. In past CL's there have been an issue of many templates being submitted prior to voting. From CL 9 and on, the template pool have been reduced prior to voting. If you want to aid in such a task and considers yourself an expert on different templates then feel free to volunteer in this post (recommended) or contact me by other means. Volunteering does not guarantee a spot on the template panel.
The templates will be pruned down to a manageable list (twelve 1v1s, six 2v2s, four 3v3s) by the template panel. The panel is responsible for ensuring diversity across templates, maps and settings. They will also try their best to alternate between similar templates(Strat ME, Strat MME) and ensure such templates rotate every other season.
Once this panel has pruned the list to a manageable size, all A and B clans will be asked to vote on templates. To eliminate strategic voting, voting will be done by assigning templates with a value on 1-5. The templates with the most points will be chosen. Ties will be broken by the template panel. The panel is encouraged to make it so that the template picked in that scenario would be the least similar to those already picked.
List the template name, and a link to a game, to nominate it.
Templates Nominated: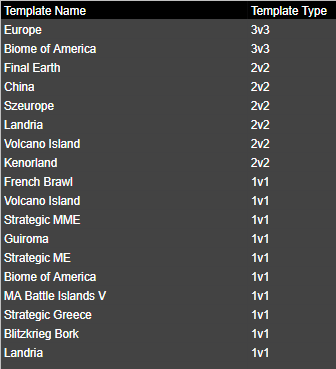 Edited 10/5/2019 06:49:35