Hey, sometimes in turn 3 you're already a goner. Let's say, for whatever reason you decide to attempt a rush triple pick and end up being horribly countered. Or when you're playing a 2v2/3v3 with 1 or 2 spawns and you spawn in the wrong neighborhood.
Also... Sorry, but this is nowhere near ignorable. xD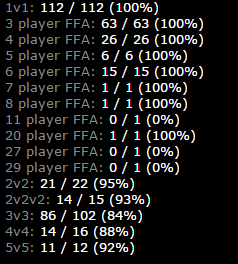 And also there's just so much nope in all the things you say...
Mmph. Nope. Having all these 100%s, with that sick amount of ranked games, I've got to say it's very, very, very unlikely. Also... What clan? You're not even in a clan =P
Master, if we meet in the ladder sure
What ladder? You participate in ladder? Hell, if you did, I'm sure you wouldn't have 100% win rates...
YMBK is right in every aspect, and his name is specially fitting for when talking about you. :p