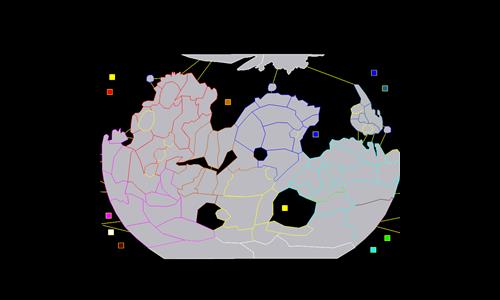 Mars Reborn (Terrafromed)
Created by
Rebel Alliance Ball
(
all
)
Went public on 4/30/2013
Number of ratings: 49
Average rating: 3.1224 / 5
89 territories, 12 bonuses, 2 distribution modes
Description
Fixed Connections of original.
Reviews
Review by
Nathan

on 5/6/2013.
A lot of broken connections - so many that I begin to wonder if they are intentional. If so, it would be better to insert some detail or barrier on the map so that they are obvious to the naked eye. Also, the large number of territories in each bonus, low army bonus to territory ratio and the exposed nature of each bonus area make for a slow game with the same territories be taken and retaken several times. That is not necessarily a criticism, just a heads-up for those considering playing on this map.

In my opinion, fix the broken territories and make the bonus areas smaller and you would have yourself a real gem here.

On the positive side, I do like the scattered nature of some of the bonuses (mountains, deserts, etc.).
Response by map creator
Rebel Alliance Ball
on 5/13/2013
Thanks man! I realized all of that afterwards lol. Try my new Terraformed Venus Map. It's Way Way better!
2 out of 2 people found this review helpful.
Review by
[NL] Willem van Oranje
on 3/4/2014.
Crucial missing links test map please before making public!
0 out of 0 people found this review helpful.