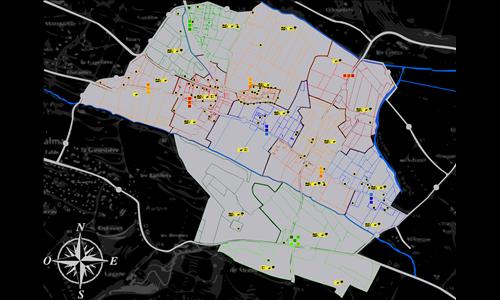 Mondouzil
Unlocks at level 10 or with the
Mega Maps Pack
#Real World
Created by
kendou
(
all
)
Went public on 8/12/2013
Number of ratings: 39
Average rating: 3.3846 / 5
402 territories, 164 bonuses, 8 distribution modes
Description
Mondouzil is a map based on the french land register, just a bit modified to avoid smallest territories.

There are two bonuses for each district, and inner them there are smaller bonuses for each kind of lands (houses, fields, industry and points of interest), also based on real land occupation..

Some distributions are available, and make you don't need a scenario to play some customized games. You just can change in- and non-distributions neutral armies, and this way block roads, houses, etc., or non-distributed districts... Have some try.

A lot of bonuses named "habitations n" are set to 0, you can change them to 1 or more, to really modify the mains goals of this map. But be careful, there are very localized on the center of the map, so choose a good distribution :-)

Enjoy, have fun, and good luck !

Feedbacks are welcome.
Reviews
Review by
Nathan

on 8/12/2013.
The map is very well done. The roads make for very interesting play - you always have to be on your toes. They also prevent armies from being stuck in the hinterlands and therefore effectively kept out of action once you conquer a territory far away from the main areas of conflict.

Personally, I don't like maps with only a few small bonus areas (most require you to hold 10 territories) because they are slow to get going and can lead to imbalanced play. That being said, however, they do present a refreshing challenge after several games on more standard maps.
2 out of 2 people found this review helpful.
Review by
Christian 'Thor' Picard
on 8/14/2013.
One hell of map! Very challenging, a lot of possibilities (single, team, etc.)
I especially like the roads, they force you to think of your defense in another way since the opponent can gain a quick access to the very heart of your territories.
Just a bit unbalanced in favor of the upper north part.
1 out of 1 person found this review helpful.
Review by
Njugu

on 4/1/2015.
I love the roads on this map. Control of the roads is the major strategic concern. Brilliant! If I could give it 6 stars I would.
0 out of 0 people found this review helpful.