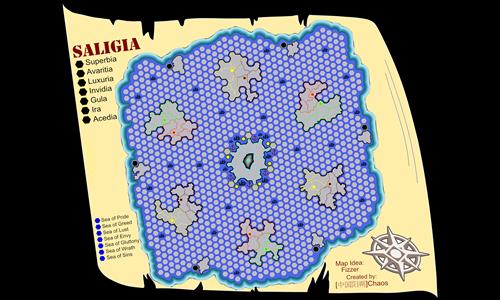 Saligia
Unlocks at level 50 or with the
Mega Maps Pack
#Fictional
Created by
Chaos

(
all
)
Went public on 11/29/2013
Number of ratings: 303
Average rating: 3.1452 / 5
1066 territories, 39 bonuses, 5 distribution modes
Description
Saligia is a different kind of map and is more suitable for scenario play with adapted rules. Best for 6 players FFA or Team games (3v3 or 2v2v2).

Mode 1 - 6 Sins by Fizzer: Each player will start on 1 of the 6 big islands and will expand from there. Special rule!! : armies can only be deployed on land or ports!! so stack up before sailing out! Play with people you can trust.

Mode 2 - Central Rush by Chaos: Start back to back in a Port in the center of the map with 1 large ship/army. Go colonize! Initial army of 99. Can be played with or without base income. Only deploy units on land or in ports.

Mode 3: Start from the small black islands and try to conquer the main islands. Be careful! Each player has 2 target islands nearby, so expect to have company soon...

There is also a 3v3 Mode, where each Team can pick from 3 different islands.

Finally, try the 2v2v2 mode. Your ally will be on the opposite side of the map.

Thanks to Fizzer for the map concept!

Have fun!