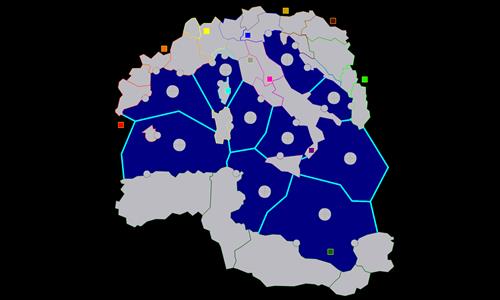 New Seafaring Italy
Unlocks at level 14 or with the
Mega Maps Pack
Created by
Cephistokles
(
all
)
Went public on 2/21/2013
Number of ratings: 43
Average rating: 3.1162 / 5
91 territories, 12 bonuses, 6 distribution modes
Description
there are 2 realistic facts this seafaring system represents especially with kill rates about 25 /40:
1.Its hard to attack land fron sea.
2. Its hard to defend seas.
Reviews
Review by
brianleb

on 4/3/2013.
Preset starting locations were almost on top of each other. Game ended in 5 turns.
0 out of 0 people found this review helpful.
Review by
Brotherdan

on 2/21/2016.
The idea of having 4 equivalent sectors for each sea is fantastic! It completely changes the gameplay. Seas are almost impossible to "conquer" and hold, too many borders. Moreover, they don't give any bonus. It's the land that gives revenue (armies) the seas are only for moving armies and it is very difficult to blockade them. Excellent idea.
This said, I find the bonuses a bit unbalanced. i.e. Aragona 5 armies for 2 territories, against Hungary (2 armies, 2 territories). I guess you tried to balance for "difficult-to-hold" bonuses, but the difference between the isolated ottoman empire and aragona or sicily is striking.
Overall a nice map, with extremely new ways of playing, making it kind of fun even against AI. I used your suggested 25/40 off/def making the seas as they are supposed to be. Congratulations!
5 stars for the idea of the seas, hoping that it spreads to other maps, 4 stars overall for the balance issues (difficult, anyhow, in such small map).
0 out of 0 people found this review helpful.
Review by

Doewolf

on 3/3/2013.
I played it 1v1 in (Venice - Genoa) Distribution 1x5 auto.
- Pretty close together (5 Turn Game).
And 4FFA Distribution 4x5 auto.
- 1xBoot 1xSurrender (7 Turn Game)
0 out of 1 person found this review helpful.