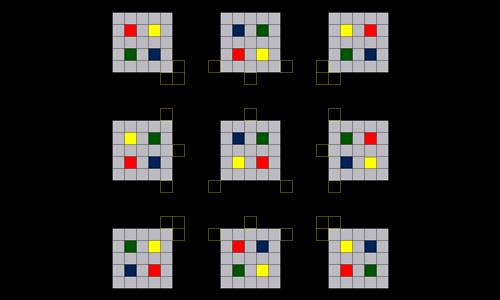 Colour Warps 2
#Novelty
Created by
Methex
(
all
)
Went public on 1/25/2013
Number of ratings: 49
Average rating: 3.2653 / 5
189 territories, 27 bonuses, 4 distribution modes
Description
The second version to "Colour Warps."
Each colour orthagonally adjacent to a territory connects to the territory in the same position in accordance to the colour on the large square nearby.
You'll understand when you play it if you don"t yet.
See http://warlight.net/Map?ID=7723 for the original.
Reviews
Review by
Teckmantle
on 1/25/2013.
Good board. Enjoyable to play. Requires tactical and strategic thinking. Perhaps not quite as much of a challenge as the first Colour Warps game. Or perhaps finally conquering the fiendishness of the first set me up to cope better with this. :-)
Response by map creator
Methex
on 2/20/2013
Haha. Once again; thanks.

2 out of 2 people found this review helpful.
Review by
Andalorium
on 2/20/2017.
Interesting idea and concept, though i noticed that not all the connections between blocks were incorrect, but missed connections are understandable when you have such a complex movement system.
0 out of 0 people found this review helpful.