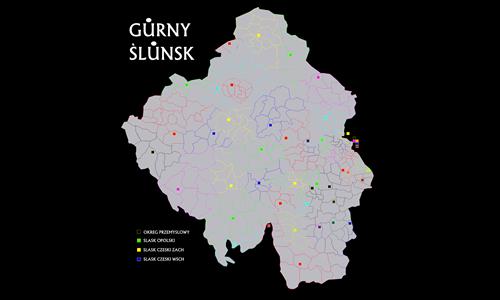 Upper-Silesia
#Real World
Created by
robert_cj
(
all
)
Went public on 9/22/2012
Number of ratings: 53
Average rating: 3.7169 / 5
300 territories, 49 bonuses, 0 distribution modes
Description
The southeastern part of the historical and geographical region of Silesia. Since the 9th century, Upper Silesia has been part of (chronologically) Greater Moravia, the Duchy of Bohemia, the Piast Kingdom of Poland, again of the Lands of the Bohemian Crown and the Holy Roman Empire, as well as of the Habsburg Monarchy from 1526. In 1742 the bulk of Upper Silesia was annexed by the Kingdom of Prussia, and in 1871 became part of the German Empire. These became part of the Republic of Poland in 1945.
Reviews
Review by
Nathan

on 5/16/2014.
Well worth playing. A nice mix of smaller and larger bonus areas keeps the game interesting and unpredictable.
2 out of 2 people found this review helpful.
Review by
Keith
on 9/30/2021.
Decent larger-sized map.
261 Total Armies.
Played with 6 and it ran with no problems.
No issues.
0 out of 0 people found this review helpful.