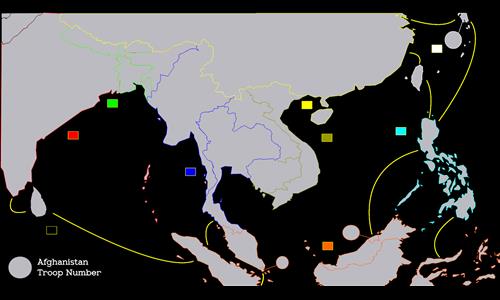 Indochina (small version)
Unlocks at level 3 or with the
Mega Maps Pack
#Real World
#Asia
Created by
skunk940

(
all
)
Went public on 7/15/2012
Number of ratings: 48
Average rating: 2.6666 / 5
20 territories, 9 bonuses, 0 distribution modes
Description
Indochina has been a centrel point for conflict since a long time ago, from the cold war to WW1, from the chinsese civil war to the Indian Civil War. Now its your turn.

A large version of this map is also availible!
Reviews
Review by
matthewbr
on 6/21/2017.
Nice, small map. I kind of wish Pakistan and Afghanistan had connections with China, but otherwise, great
1 out of 1 person found this review helpful.
Review by
wickidd
on 12/1/2021.
cool idea, but unfortunately way way too hard. next time please put the difficulty in the title
0 out of 0 people found this review helpful.