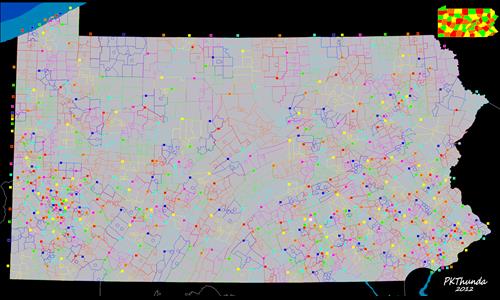 Giant Pennsylvania [2.4k]
#Real World
Created by
PKThunda
(
all
)
Went public on 8/18/2012
Number of ratings: 126
Average rating: 3.5079 / 5
2382 territories, 567 bonuses, 10 distribution modes
Description
Pennsylvania split up into its 67 counties, which have been divided further into townships and boroughs; bonuses are for school districts and counties.

Version 1.12 (7/22/2014): Another feature taken from Giant Ohio, this map now has a smaller map that outlines all county superbonuses! This makes the playing field less cluttered and confusing! County superbonuses are also now worth 1/3 of the total number of territories in the county (ex. Adams County has 36 territories, county superbonus is worth 12).

If you see anything wrong with the map (ex. center points are wrong, missing/excess connections, etc.), or would like to suggest something, feel free to send me feedback or message me and I'll fix it a.s.a.p./add it if I like it!