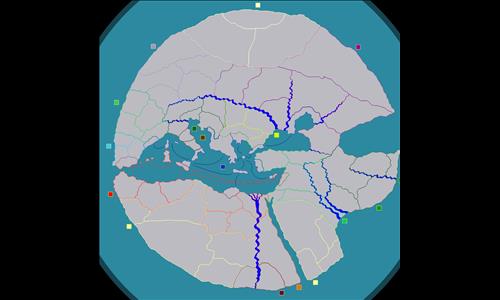 World of Hecatæus
Unlocks at level 24 or with the
Mega Maps Pack
#Fictional
Created by
Urfang
(
all
)
Went public on 4/14/2012
Number of ratings: 49
Average rating: 3.2857 / 5
73 territories, 17 bonuses, 0 distribution modes
Description
World map by Hecatæus of Miletus
Reviews
Review by

{rp} Clavicus Vile

on 4/15/2012.
A great map! It's different and fun to play on. Cleanly designed with many good start spots.

On continued play, I worry that the east may be too powerful however.
Compared to the west, it can secure it's bonuses with relative ease, whilst everybody else must struggle.

I give this a 5/5 for it's unique design and fun gameplay.
Response by map creator
Urfang
on 4/15/2012
I dont know. The west has more bonuses. This is a game where I won from the west:

http://WarLight.net/MultiPlayer.aspx?GameID=2528995
4 out of 4 people found this review helpful.
Review by
Robby

on 5/2/2012.
5 minutes is too long for this map. 2 minutes and auto at 5.
0 out of 3 people found this review helpful.