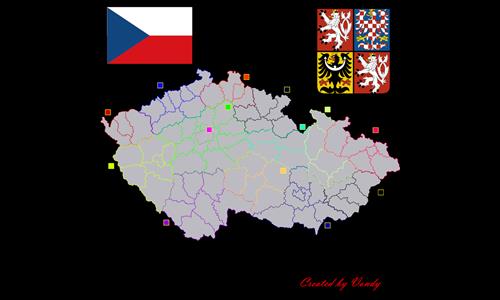 Czech republic - medium
#Real World
Created by
{CZ-SK} Vondy
(
all
)
Went public on 3/23/2012
Number of ratings: 157
Average rating: 3.7643 / 5
77 territories, 14 bonuses, 3 distribution modes
Description
Toto je střední mapa Česka, rozdělená na okresy.
Česká republika vznikla rozpadem Československa v roce 1993.
Každé území je podle skutečného okresu. Bonus je za každý kraj.
V distribuci si můžete navíc vybrat hlavní města krajů nebo místo, které má nejvíce sousedních okresů v kraji.


English:
This is a medium map of the Czech Republic, divided into districts.
Czech Republic was formed through the disintegration of Czechoslovakia in 1993.
Each territory is based on the existing district. Each bonus on the existing county. In distrubution you can choose capital of counties or territory, which has got the most neighboring districts in county.