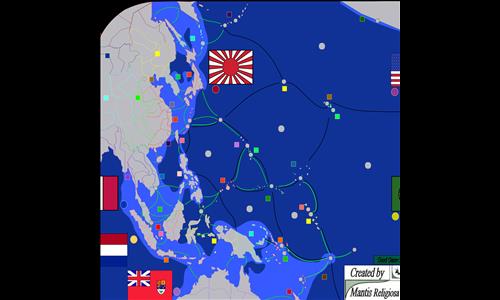 Pacific War (1942: climax of the Japanese Empire)
#Real World
#WW2
Created by
mantis religiosa
(
all
)
Went public on 8/13/2012
Number of ratings: 95
Average rating: 3.3368 / 5
134 territories, 45 bonuses, 5 distribution modes
Description
MANTIS RELIGIOSA

We are in 1942. The Japanese conquered a large part of the Asia-Pacific, but their spread has been stoped by the United States of America, since the defeat of the Empire of Japan at Battle of Midway.
Will you rewrite History ?

********* Notice :

- Green lines mean connections between territories.
- Black lines mean borders between the ocean compartments. "Pacific Ocean" compartments are connected each other by their borders.
Ocean compartments are connected with lands belonging to their territories.

********* Advice :

- Do not put the Surveillance Card in the game's settings. Or just make sure that the other players will not use it for the Japanese Colonial Empire bonus !

Good Game !