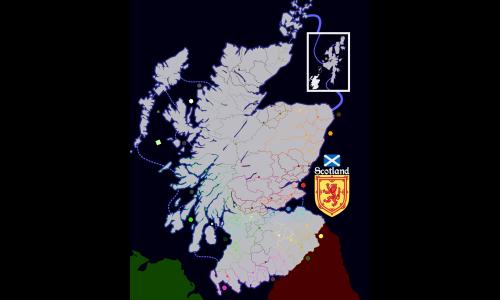 Scotland: Historical Divisions
Unlocks at level 13 or with the
Mega Maps Pack
#Real World
Created by
MachoMeatball
(
all
)
Went public on 11/20/2023
Number of ratings: 5
Average rating: TBD (needs 10 ratings)
195 territories, 55 bonuses, 0 distribution modes
Description
Scotland, a nation comprising the northern third of the island of Britain, part of the United Kingdom, with beautiful landscapes, many lochs, and more sheep, in Warzone map form!

- Based off the shires/counties of Scotland which ceased to be used for government purposes after 1975.

Created for complex scenarios dividing the nation, the map has
- 195 Territories
- 41 Primary Bonuses, 7 Secondary Bonuses, 8 Tertiary Bonuses

Version 1.0
Reviews
Review by
Acho
on 11/25/2023.
No offense to the Scott's, but I had more fun playing this map than I thought I'd have. Small, but solid Five stars. Oh, and I don't think there should be a link between East Calder and Torphichen + Bathgate. Thanks.
Response by map creator
MachoMeatball
on 11/26/2023
Thanks for catching that. I'll get it fixed!
0 out of 0 people found this review helpful.