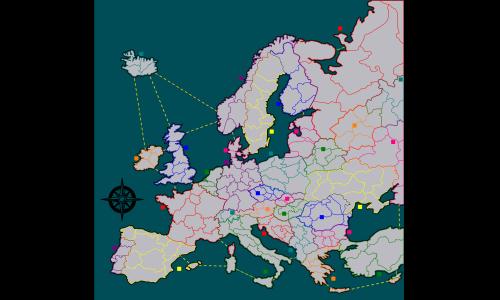 Troll's Europe (2009)
Unlocks at level 33 or with the
Mega Maps Pack
#Real World
#Strategic
Created by

Kenny • apex

(
all
)
Went public on 5/20/2023
Number of ratings: 5
Average rating: TBD (needs 10 ratings)
206 territories, 32 bonuses, 4 distribution modes
Description
This map is a complete makeover of Troll's Europe map that can be found here: https://www.warzone.com/Map/73-Europe

I drew a lot of my inspiration for the style from Ra, though I tried to keep it as close to Troll's original as possible. There are some new connections and some removed connections. I struggled with this decision, but ultimately Troll's original map had some mistakes regarding connections.

List of new connections:

Slask --> Trenciansky

Eszak-Magyarorszag --> Nitra

Eszak-Alfod --> Kosice

Țara Românească --> Republic of Moldova

Kyiv --> Kharkiv

List of removed connections:

Vysocina --> Wien

Croatia --> Del-Afold

I also want to give credit to Farah for making a revamp that adjusted those borders to meet Troll's old connections. All credit goes to everyone I mentioned, and I hope you all enjoy!