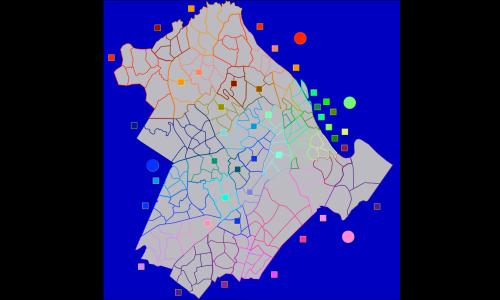 Lynchburg, Virginia
Unlocks at level 6 or with the
Mega Maps Pack
#Real World
#Local
Created by
Chinook
(
all
)
Went public on 3/6/2023
Number of ratings: 13
Average rating: 3.6153 / 5
202 territories, 45 bonuses, 0 distribution modes
Description
A map of the City of Lynchburg, Virginia
Reviews
Review by
Unknown Account
on 5/27/2023.
Great map. I always like it when there's a map of something that's not a country, continent, the world or so.

It is a fairly nice map great for FFA-s or small team games. I feel it's slightly unbalanced, but I don't think it's excessive and games will definitely rely on strategy.

One thing that I find slightly problematic is that the background is a bit bright and very close in colour to the blue player colour, possibly allowing for some misjudgements. It is not a great issue however and I'm giving this map 5/5. Keep mapmaking and improving yourself!
1 out of 1 person found this review helpful.
Review by
EIGBM
on 3/6/2023.
Not a place I would ever want to visit.
3 out of 6 people found this review helpful.