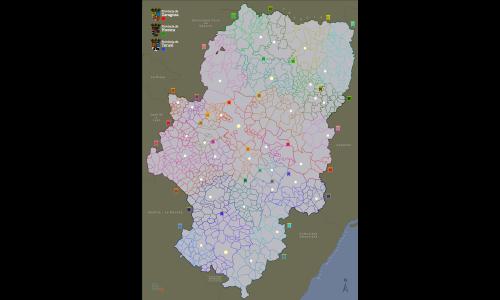 Aragón
Unlocks at level 2 or with the
Mega Maps Pack
#Real World
Created by
jpgzgz
(
all
)
Went public on 2/14/2023
Number of ratings: 12
Average rating: 3.3333 / 5
737 territories, 69 bonuses, 0 distribution modes
Description
"Polvo, niebla, viento y sol
y donde hay agua, una huerta;
al norte, los Pirineos:
esta tierra es Aragón."

Detailed map of Aragón, the fourth largest community in Spain, with the current provincial, county and municipal demarcation.

The distribution is real and is the official one: Aragón has many population imbalances that cause tiny territories coexisting with some huge ones (due to their demographic influence or simply because they are almost deserted places). This means that these main regions have direct access to many other small ones.

Even the extreme case of "Sierra de Albarracín" where the distribution is literally like cheese holes: the capital "Albarracín" can access adjacent territories of the neighboring counties and also ALL the territories of its county, but many of these are only connected to it.

Hope you enjoy it!
Reviews
Review by
(deleted)
on 2/25/2023.
§ My opinion of this map: It probably took forever to at least name each of these territories but the "problem" for this map is: the bonuses of this map are very exegetically low (probably because the map was developed through the population density of "Aragon") and the strategy that works the most is basically focus on capturing the capitals of each municipal and, maybe, the territories with the highest bonuses (like the ones with 5 or 4).
Response by map creator
jpgzgz
on 2/27/2023
Thank you very much for the analysis! How could this be improved for a 2.0? I am open to any change... more bonuses for the counties, for the provinces?

Thank you very much in advance!
3 out of 4 people found this review helpful.