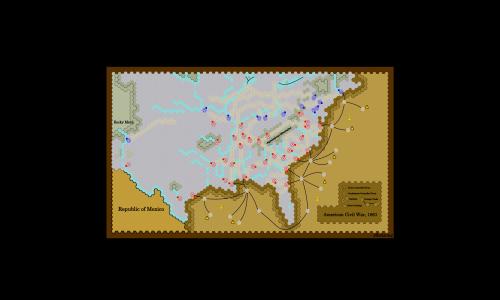 American Civil War Hexes
Unlocks at level 40 or with the
Mega Maps Pack
Created by

rfhstrong

(
all
)
Went public on 5/24/2022
Number of ratings: 6
Average rating: TBD (needs 10 ratings)
1366 territories, 53 bonuses, 2 distribution modes
Description
Hex map of the American Civil War, starting in 1861. Specific cities are extra valuable.
* Railroads allow fast travel across the country.
* Blockade trade routes to cripple the opponent's income.
* Compatible with Local Deployment
Reviews
Review by
Pharos

on 5/30/2022.
Only played this game once and I agree that there should be a better bonus scheme. A few hexes are not correctly linked. I like the idea of the railroads. I thinn the map has potential and I'll wait to review it until it's had some work done.
3 out of 3 people found this review helpful.
Review by

EIGBM
on 5/27/2022.
This map fails geographically and game-play wise. The concept could only work with high city density plus the addition of mega-bonuses. Right now you just have a bunch of worthless hexes everywhere - why even put them in? Also looks nothing like the US.
3 out of 6 people found this review helpful.