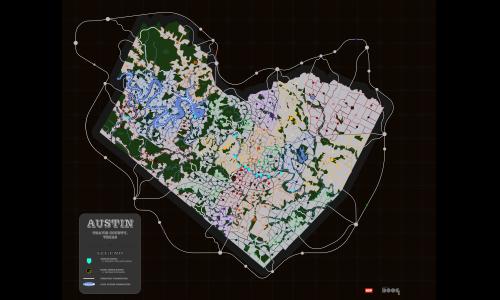 Texas Two-Step (Travis, County) LARGE
Unlocks at level 21 or with the
Mega Maps Pack
#Local
#Diplomacy
#Strategic
Created by

Al Doog

(
all
)
Went public on 6/29/2022
Number of ratings: 37
Average rating: 4.3243 / 5
919 territories, 236 bonuses, 4 distribution modes
Description
Map of Travis County, Texas featuring Austin - Capital of Texas - home of University of Texas ... (current hometown)

Travis County is a geological, historical & cultural nexus. The Balcones Escarpment bisects the county north & south; as physiographic divide between the limestone canyonlands of the Edwards Plateau & clayey flat meander of the Coastal Atlantic Plain. Every drop of rainfall flows to the Colorado River. Pre- & post-European trade routes (eg. Chisholm Trail & Camino Real) & sacred places (Council Oaks) est. area significance even prior to being Capitol of the Republic, Live Music Capitol of the World & Tech boomtown.

Connections
Territories are connected when adjacent or when connected by white lines (dashed for waterway connections).

Income
(17) Directional sub-region SuperBonuses pertaining to County v City Jurisdiction;
(12) Bridges (CYAN) cross the Colorado River; +1 income if occupy both bridgeheads;
(40) Top-40 Live Music Venues are "noted"; +1 income for each occupied territory.