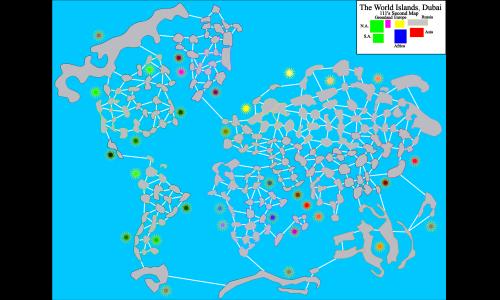 The World Islands, Dubai
Unlocks at level 16 or with the
Mega Maps Pack
#Local
Created by
111
(
all
)
Went public on 4/14/2022
Number of ratings: 18
Average rating: 3.3888 / 5
217 territories, 39 bonuses, 0 distribution modes
Description
The World Islands is an archipelago of small artificial islands constructed in the shape of a world map, located in the waters of the Persian Gulf, off the coast of Dubai, United Arab Emirates. The World islands are composed mainly of sand dredged from Dubai's shallow coastal waters, and are one of several artificial island developments in Dubai.

Drawing began in late March or early April, and a total of 4 afternoons are spent to work on this map. Some island names are changed, since there is no clear image on the internet that shows the names clearly, and also the naming of the territories are absolutely terrible sometimes, especially in "Kazakhstan" and USA.

Yes I am milking the local map category to insert yet another earth map. Also the bonuses are a little bit rigged since I don't want Greenland and Eastern Russia to get too much attention, and also because strategic tiles need nerfs to discourage people.
Reviews
Review by
Mattia Carofalo
on 6/27/2022.
Keep an eye on connection in America. Some country are available only in some directions (virginia and new york for example)
3 out of 3 people found this review helpful.
Review by
TresEspadas
on 7/13/2022.
One of the all time best
1 out of 1 person found this review helpful.
Review by
Aaron
on 4/10/2023.
nice
0 out of 0 people found this review helpful.