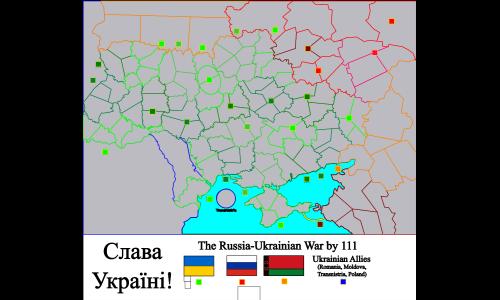 The Russia-Ukrainian War
Unlocks at level 16 or with the
Mega Maps Pack
#Real World
Created by
111
(
all
)
Went public on 3/22/2022
Number of ratings: 18
Average rating: 3.6666 / 5
119 territories, 33 bonuses, 1 distribution mode
Description
Russia began an invasion of Ukraine on 24 February 2022, in a major escalation of the Russo-Ukrainian War that began in 2014. It is the largest military attack in Europe since World War II.
Since that day, over the next days and possibly weeks, thousands died, more protested, more funded the Ukrainians, and the heroism of Ukrainians and Volodymyr Zelenskyy, the President of Ukraine, is shined upon. This is a map that gives an image of what does it feel like to fight the war, and what the war now looks like.
The provinces have zero disregard to the actual districts of the Oblasts, and the lack of detail in Russia is deliberate. Please do not make fun of politics, and shall we pray on the end of the war soon.

Слава Україні!
Reviews
Review by
Marcello
on 10/17/2022.
Quite good map overall, however it should be noted that Transnistria is NOT an ally of Ukraine, quite to the contrary actually. if anything, it should be grouped with Belarus and Russia.
1 out of 1 person found this review helpful.
Review by
PJABBER
on 3/1/2023.
Timely, would be nice to have players placed in each respective nation even if this is not a simulation by any means.
0 out of 0 people found this review helpful.
Review by
yinchiao

on 3/23/2022.
Glory to Ukraine! Glory to Heroes!
11 out of 24 people found this review helpful.
Review by
M81Master75
on 4/13/2022.
Good map, bonuses are skewed however. Nearly impossible to win as Russians, probably intentionally done but it's okay Russians will win in real life
Response by map creator
111
on 5/2/2022
Yes, it is intentional, because western media literally demonised Russia.
4 out of 12 people found this review helpful.