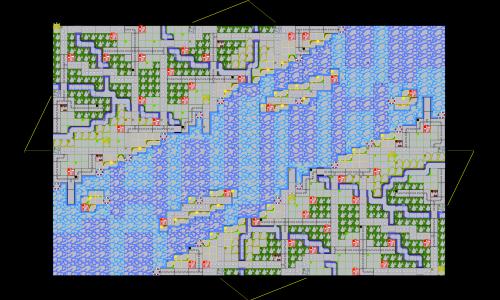 Advance Wars : Channel Royale
#Fictional
#Novelty
Created by

Rinnosuke
(
all
)
Went public on 3/7/2022
Number of ratings: 15
Average rating: 3.9333 / 5
1149 territories, 231 bonuses, 8 distribution modes
Description
Decided to go all in for this one.

A map loosely based on the classic Royal Channel map from Famicom Wars (1988) that got around on every games of the series. Main differences being the size and the fact that it's mirrored now.

Works best for team matches or FFA matches with a good couple of players, since there's no HQ mechanics on here that was seen in my other 3 maps.

Changes :
Version 1.1 : Added distribution modes and fixed the Sea 05 bonus.

Winner of Map of the Week #381. Definitely proud of that one.
Reviews
Review by

AbsolutelyEthan

on 3/8/2022.
Always nice to see stuff aligned to a grid like this. Looks good!
Response by map creator

Rinnosuke
on 3/9/2022
Thank you!
6 out of 8 people found this review helpful.
Review by
Valcroth
on 5/28/2022.
Basically a checkerboard. Aesthetically bland
0 out of 1 person found this review helpful.