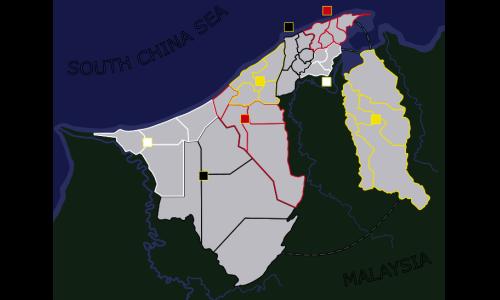 Brunei Small
#Real World
Created by

Seleukos
(
all
)
Went public on 11/3/2021
Number of ratings: 18
Average rating: 3.4444 / 5
33 territories, 8 bonuses, 1 distribution mode
Description
The Nation of Brunei, the Abode of Peace (as per its official name), is a small country in Borneo. Having gained its independence from Britain in 1984, it is now an absolute monarchy that is second only to Singapore in economic development in its region (Southeast Asia), mostly because of its petroleum exports.

The country's mukims (second-level administrative divisions) are used as territories, with the exception of the seven capital mukims which were too small to include. Instead they've been combined with Mukim Kianggeh.

v1.1: Reduced all bonus incomes by 1.
Reviews
Review by
Hevlikn
on 11/5/2021.
Can see some potential, but highly dependant on map settings.

Played with 4 starting territories and 5 base income; no wastelands and 4 players: because of the 4 army neutrals on every tile, edge starts are very powerful, especially North Belait (4t/+3) as it only borders 3 territories compared to North Brunei Muara (4t/+3) which borders 5, or south brunei Muara (3/+2) bordering 6; the bonuses don't correspond to the difficulty in defending them, and given the small map size any bonus held will snowball quickly
Response by map creator

Seleukos
on 12/6/2021
Thanks for the evaluation! After playing around with it some more, I reduced all bonus values by one, to reduce the snowballing effect of capturing any single bonus. I contemplated reducing North Belait's income further, but that would leave it with just 1, which seemed too low for 4 territories, even if they are a bit (not overpoweringly so) more defensible than others.
2 out of 3 people found this review helpful.
Review by

AbsolutelyEthan

on 11/23/2021.
Would be cool if this was a map of Europe instead
Response by map creator

Seleukos
on 11/23/2021
With 33 territories? Careful what you wish for...
1 out of 1 person found this review helpful.
Review by
SamwiseGamgee
on 3/25/2023.
good
0 out of 0 people found this review helpful.