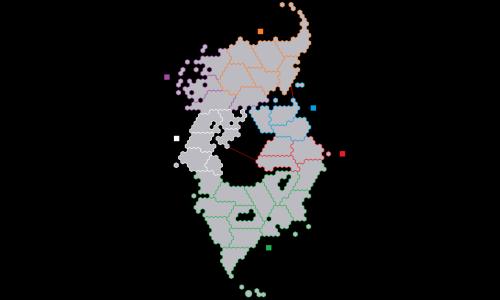 Mata Nui
#Fictional
#Novelty
#Real World
Created by
Wusslingu
(
all
)
Went public on 1/24/2022
Number of ratings: 16
Average rating: 3.125 / 5
35 territories, 6 bonuses, 1 distribution mode
Description
Hello everyone! I am proud to present my map of Mata Nui :-}
Any games, favourites or comments are all appreciated.

Since there are no definitive borders in the canon I aimed to find a compromise between the lore and game design.
I designed and named the territories myself, based mainly on topographical features, while keeping sizes within a suitable range.

Matoran and Kernewek (Cornish) are used to name the territories, and sometimes a hybrid of the two, I hope you like them!
In this scenario, the various Koro are part of the Meur/Veur

I built this map from scratch, hexagon by hexagon, and it has been a great pleasure and creative outlet, so thank you for reading!
Reviews
Review by

AbsolutelyEthan

on 1/27/2022.
I used to build these as a kid, but never really knew much of the lore. Cool map.
1 out of 1 person found this review helpful.
Review by
Aaron Gagnon
on 2/3/2022.
nice
0 out of 0 people found this review helpful.