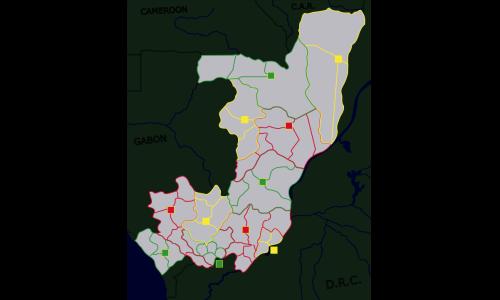 Congo-Brazzaville Small
#Real World
Created by

Seleukos
(
all
)
Went public on 10/3/2021
Number of ratings: 20
Average rating: 3.6 / 5
48 territories, 11 bonuses, 1 distribution mode
Description
The Republic of the Congo (not to be confused with its neighbouring Democratic Republic of the Congo, or Congo-Kinshasa) is a tropical nation in Central Africa. A recent administrative reorganization saw the country's 12 departments divided into 86 districts and 6 communes; but since maps of the new districts have proven difficult to find I've used the old, fewer, districts instead. If I ever come across newer maps I may make a version with more territories.
Reviews
Review by

AbsolutelyEthan

on 10/3/2021.
The little bit of detail done in the background make this map a little better than other small country maps.
4 out of 4 people found this review helpful.
Review by
Mjoth
on 10/24/2022.
Interesting small map, fun game.
1 out of 1 person found this review helpful.