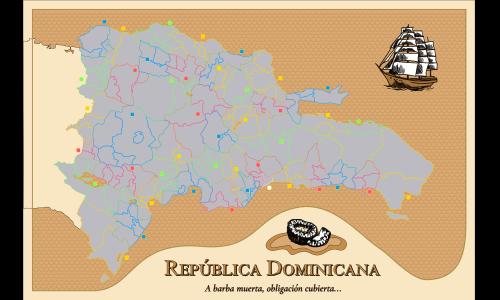 Dominican Republic (Republica Dominicana)
Created by
jeaamj
(
all
)
Went public on 9/29/2021
Number of ratings: 17
Average rating: 4.3529 / 5
159 territories, 43 bonuses, 0 distribution modes
Description
A map of the municipalities of Dominican Republic.
Reviews
Review by
AbsolutelyEthan

on 9/29/2021.
Artistically, this looks very good. I like how the cream colored border swoops up at the bottom, and overall like the simplicity of the sea pattern. What keeps it from being exceptionally great looking is that none of the art is done to the territories themselves. You see a good looking background, but then see flat territories on top of it. I wish the territories had cutouts depicting recognizable city buildings or plantations; something to make it pop more.

However, the map plays respectably, and looks pleasing. Good work.
Response by map creator
jeaamj
on 9/30/2021
Hi, thanks for your nice coment, you are right, i will think about including some palms or buildings, that could be cool :)
6 out of 6 people found this review helpful.
Review by
Frank Gruen
on 10/19/2021.
ölkj
0 out of 0 people found this review helpful.
Review by
Artie
on 10/14/2021.
its just ok
0 out of 2 people found this review helpful.