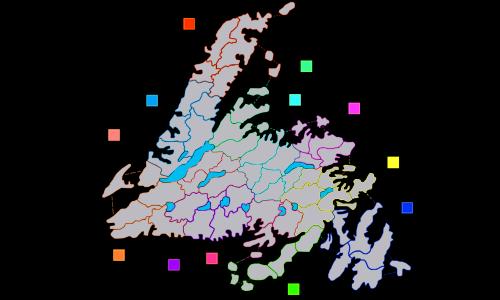 Isle of Newfoundland
Created by
Avalonus
(
all
)
Went public on 9/23/2021
Number of ratings: 27
Average rating: 4.2222 / 5
69 territories, 12 bonuses, 2 distribution modes
Description
Newfoundland is an Island on the very eastern shore of Canada with a rich history, ranging from Vikings to the English & French, the island has been a common battleground for many.
Reviews
Review by
AbsolutelyEthan

on 9/24/2021.
First off, Congrats on your first map!

Some Pros:
You're following a good bonus value system universally
Your lakes allow a couple instances of territories not connecting because they do not touch (which gives a little variety)
Your clearly thinking about effective bonus colors (I see the dotted lines)

Overall though the map looks sloppy. Bonus Objects are too big and too far away from their territories. It also looks like you drew each territory individually, and therefor they look spaced out and crudely fit together. One easy way to avoid this in the future is in how you create your territories. You can draw the entire landmass all at once and 'cut out' your territories. They'll stay snug together and the whole thing will look clean. There is a map making Discord I recommend you look at if you have any questions: https://discord.gg/34K6VMJcgK

By all means keep making maps. You'll get better over time, and can always come back to this map to improve it if desired.
5 out of 5 people found this review helpful.
Review by
Keith
on 10/7/2021.
Not a bad smaller-sized map.
Lack of waterways effects the play though.
The one-by-one islands make it a slog.
61 Total Armies.
0 out of 1 person found this review helpful.
Review by
Frank Gruen
on 10/19/2021.
äöljök
0 out of 1 person found this review helpful.