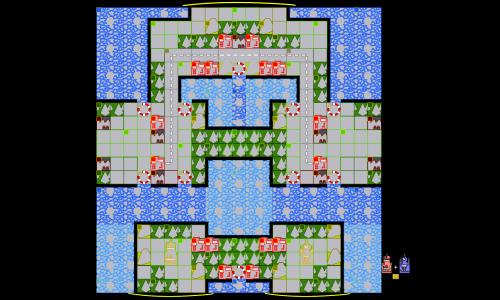 Advance Wars : Hat Harbor
#Fictional
#Novelty
Created by

Rinnosuke
(
all
)
Went public on 8/27/2021
Number of ratings: 20
Average rating: 3.35 / 5
300 territories, 87 bonuses, 4 distribution modes
Description
Based off an Advance Wars (2001) Versus map of the same name.

Perfect for having a Wars flair while playing Warzone.

Works very well for a commerce game.

If the distribution of territories is chosen to be random, the bonus for having both HQ needs to be disabled.

Changes :
Version 1.1 - Rebalancing bonuses and removing overlap between bonus links
Version 1.2 - Added two -1 bonuses at the plains without any bonuses in version 1.1.
Version 1.3 :
Changed sea tiles to look closer to Advance Wars 2's sea tiles.
Changed factories and mountains to be consistent with my other 2 maps.
Changed airports to harbors.
Lowered the bonus from having both HQ to 20. That's more than enough to turn the tides.
Rebalanced the other bonuses
Added Manual Distribution scenario for team matches so both HQs can't be obtained within the first 4 turns.