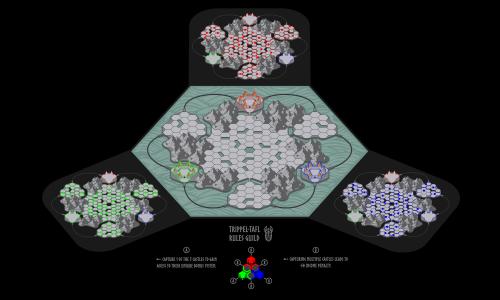 Trippel-Tafl
Unlocks at level 45 or with the
Mega Maps Pack
#Fictional
#Strategic
Created by

Lionheart

(
all
)
Went public on 6/6/2022
Number of ratings: 64
Average rating: 3.4218 / 5
135 territories, 100 bonuses, 9 distribution modes
Description
➽ Template suggestion (1v1):
https://www.warzone.com/MultiPlayer?TemplateID=1471142

• In this map capturing 1 of the 3 castles you will gain access to their unique bonus system.
• Once a player lose his castle, he lose all the bonuses too.
• Taking two castles or more you gets negative income.
• This map was Inspired on the Dereulb concept map maded by Rabbit (Widzisz • apex - alt) https://www.warzone.com/Map/12190-Dereulb.

★ Special thanks to Rufus, Timinator and Deadman with the map concept.
★ Thanks to TR-8R, l4v.r0v, Krinid, FiveSmith, Otto and many others for suggestions, test and comments who helped in the new version of the map as well.