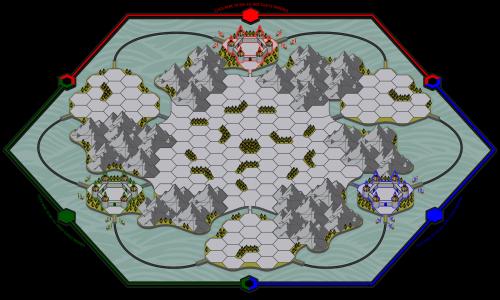 Trippel-Tafl
Unlocks at level 45 or with the
Mega Maps Pack
Created by

Lionheart

(
all
)
Went public on 6/6/2022
Number of ratings: 27
Average rating: 3.6296 / 5
135 territories, 100 bonuses, 9 distribution modes
Description
•Fisrt of all, this map have a new version under development that I'm trying to improve some issues that players complain and asked me to make it better.

•Template suggestion (1v1):
https://www.warzone.com/MultiPlayer?TemplateID=1452402

• In this map each castle has its own bonuses, if you click on them you will see the bonuses which are hidden in a layer below of all the territories.
• Once a player lose his castle, he lose all the bonuses too.
• Taking two castles or more you gets negative income.
• This map was Inspired on the Dereulb concept map maded by Rabbit (Widzisz • apex - alt).
• Special thanks to Rufus, Timinator and Deadman.