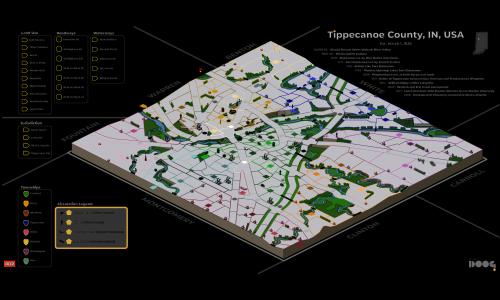 Tippecanoe Too
Unlocks at level 15 or with the
Mega Maps Pack
#Local
#Diplomacy
#Strategic
Created by

Al Doog

(
all
)
Went public on 9/16/2021
Number of ratings: 52
Average rating: 4.3461 / 5
323 territories, 110 bonuses, 10 distribution modes
Description
Map of Tippecanoe County, IN, USA ... Home of Purdue University ... (incl. W Lafayette, hometown)

Tippecanoe Too is a 3D axonometric style iteration of "Tippecanoe County, Indiana" drawn by clanmate MGH. An homage to enjoyable maps/elements of games played during my first year of playing Warzone, notably: "Far Land"; "Middle Earth in the Third Age"; "Netherlands HD"; and "Europe". Enjoyed drawing nostalgic, local landmarks.

Territories are connected when adjacent and between the 3 Railroad Depots, 3 Airports, 11 Waterway Access Points (in sequence), and by "trestle-ated" Small Bridges.

Please review the Super-Bonus Legends: Roadways, Waterways, Landmarks/Land-use, Navigation, Jurisdiction and Township. Many territories have overlapping bonuses pertaining to adjacencies, Township, Jurisdiction, and Land-Use (e.g. Hoffman Access territory is in the 'Old State Road 25' bonus, but also part of 'Tippecanoe County', 'Wabash River', 'Washington Township', and 'Waterway Access Point' superbonus collections).