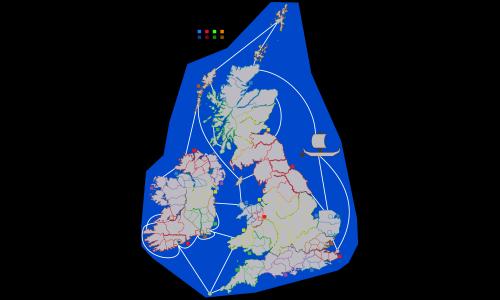 Early Medieval British and Irish Kingdoms
Unlocks at level 26 or with the
Mega Maps Pack
#Real World
#Strategic
#Europe
Created by

allusernamesaretaken12
(
all
)
Went public on 4/16/2021
Number of ratings: 22
Average rating: 3.6818 / 5
139 territories, 34 bonuses, 3 distribution modes
Description
This is a historical map of the kingdoms that existed in Great Britain and Ireland during the early medieval period, so before Norman conquest, but after the withdrawal of the Romans.

The map uses super-bonuses worth 1 army per turn in order to generate extra warlords when using the random warlords distribution, however for every super-bonus there is also another super-bonus containing identical territories, but worth -1 armies per turn. This is to prevent the super-bonuses being worth anything, without removing their ability to generate a warlord.

If you wish to refer to this map in its abbreviated form of EMBIK, then you can pronounce that as either "em-bik" or you can pronounce each letter individually. However, if you choose to pronounce each letter of EMBIK individually, then you must sing it to the tune of "Bingo was his Name-o".
Reviews
Review by
Save_The_Marsh
on 5/30/2021.
This map cured my cancer
2 out of 3 people found this review helpful.
Review by
pitulnik
on 6/11/2021.
Small map with interesting theme, I recommend especially random warlords distribution.
My complaint goes to territories connections in places like Gwent or Síol Muireadaigh. There are natural borders (?) that are kind of confusing and should be pictured more clearly.
Response by map creator

allusernamesaretaken12
on 6/11/2021
Thanks for your review. Constructive criticism is always welcome.

What specifically do you find confusing? Are the rivers not wide enough to see clearly or is it something else?
1 out of 1 person found this review helpful.