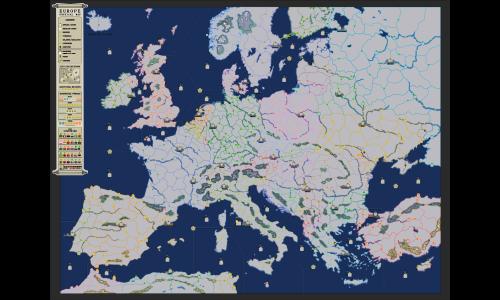 Europe: Physical Map
Unlocks at level 30 or with the
Mega Maps Pack
#Real World
#Diplomacy
#Europe
Created by
muligan
(
all
)
Went public on 2/17/2021
Number of ratings: 82
Average rating: 4.317 / 5
818 territories, 506 bonuses, 12 distribution modes
Description
Hello, Warzone Community, this map is a combination of concepts and styles of my past maps, focusing on Late-Modern European country borders, naval-port & city gameplay, the major features are:

- Physical Geography Barriers (River/Strait Crossing & Impassable Mountains)
- Seazone give quick movements, each connect to 5 Ports(anchor icon)
- 30 scattered Special cities & 8 City Collection Bonuses
- Country & Region Unification Bonuses

- 2/24 Update: Added some historic tags for 1812, 1848, 1914, 1939, 1960s, also, the ocean is now blue.
- 5/24 Update: Map changes in Balkans, Danish Islands, Dniester river, French Alps, Gulf of Trieste, Rhineland and Southern Norway.
- 10/18 Update: Map changes in Baltic States, Belarus, Bosnia & Herzegovina, France, Germany, Slovakia, Turkey, UK and more. Added more historic tags and ship icons for seazones.