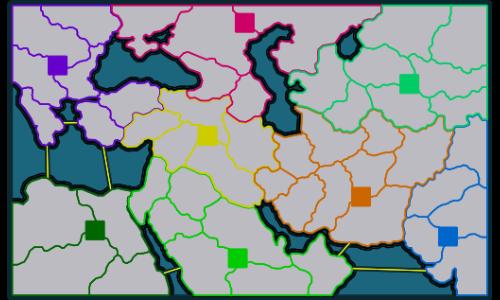 Middle East Board Map
Unlocks at level 7 or with the
Mega Maps Pack
Created by

ɠanyɱedes
(
all
)
Went public on 12/14/2020
Number of ratings: 31
Average rating: 4.0322 / 5
50 territories, 8 bonuses, 0 distribution modes
Description
Update 1.1:
• Added connection between Sudan and Mecca

✪ Map of the week: Week #308
Reviews
Review by

Blu3_Skittl3s
on 12/15/2020.
Amazing map, this was absolutelly what i was searching for, unique map on its kind, if you decide to make more maps on this style it would be amazing.
What's cool with this map?
- Amount of territories, perfect for quick rt diplos.
- Amount of bonuses and balance.
- All territories are reachable from different places.

SUGGESTION: Make more maps like this these are amazing!
Response by map creator

ɠanyɱedes
on 12/15/2020
Thanks! I have planned other continents as well.
5 out of 5 people found this review helpful.