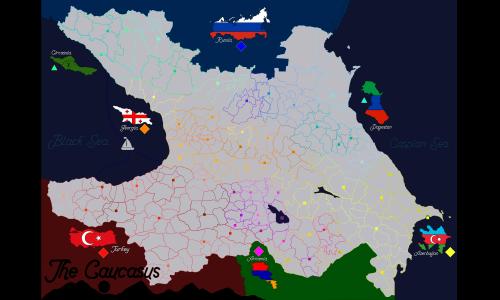 MachoMeatball's Caucasus
Created by
MachoMeatball
(
all
)
Went public on 12/28/2020
Number of ratings: 20
Average rating: 3.95 / 5
384 territories, 69 bonuses, 0 distribution modes
Description
Large Caucasus Map
Reviews
Review by
pitulnik
on 1/21/2021.
Oh, this is the map that was missing on Warzone. Nice theme choice. I am looking forward to play some custom scenarios here(especially WWI ones).
To the map itself- artwork is just great, bonuses are basically balanced and the geography pleasantly challenging. Some of the largest bonuses like Chechnya or Erzurum should be splitted in half like Erzurum East and Erzurum West, but it is fine even in this stage.
This is the map that I really like.
1 out of 1 person found this review helpful.
Review by
Ed
on 1/21/2021.
Nice for 1v1
1 out of 2 people found this review helpful.