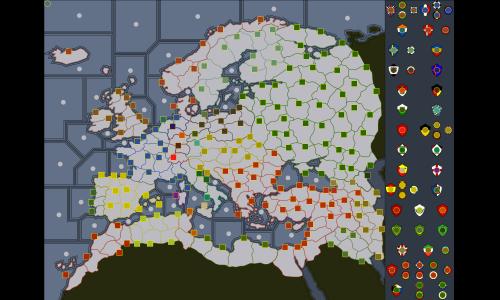 Napoleonic Diplomacy
Unlocks at level 27 or with the
Mega Maps Pack
Created by
Colion
(
all
)
Went public on 11/30/2020
Number of ratings: 17
Average rating: 3.8235 / 5
238 territories, 255 bonuses, 1 distribution mode
Description
A map of Europe and the surrounding regions some time around the outbreak of the first Napoleonic War. This map is not a reflection of any specific date, but is rather aimed at creating a map where players can re-create early nineteenth century Europe. Sticking with this theme, several nations (notably the Ottomans) have had vassals added as independent states for balance. Don't take it too seriously, and enjoy!
Reviews
Review by

A.F
on 1/27/2021.
Great
1 out of 1 person found this review helpful.
Review by
Zealot Zllen
on 7/28/2021.
ew
0 out of 0 people found this review helpful.