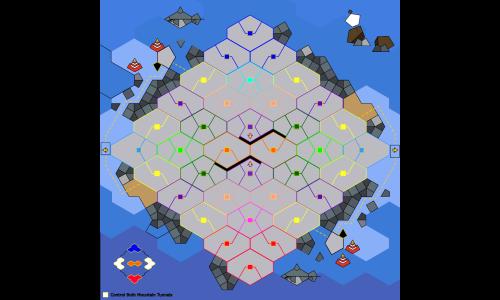 Pent Trap Island
#Novelty
#Strategic
#Fictional
Created by

MGH

(
all
)
Went public on 10/27/2020
Number of ratings: 39
Average rating: 3.7435 / 5
98 territories, 44 bonuses, 4 distribution modes
Description
Cairo pentagonal tessellation-based (face configuration V3.3.4.3.4) map primarily designed for 1v1. Multiple distribution modes.

Reminiscent of The Most Dangerous Game, opponents must track and hunt each other on an island. Territories are named after common geomorphic landforms or ecosystems, with bonuses based on the irregular hexagon "diamond" shaped groups.

Weighted bonus at the North and South of the map anchor potential strongholds. Three N/S shortcuts are positionally advantageous, but have additional, potentially treacherous connections to adjacent territories. Avoid pitfalls and your opponent's traps!

Concept and design by Al Doog with Pete and MGH. Coding by MGH.