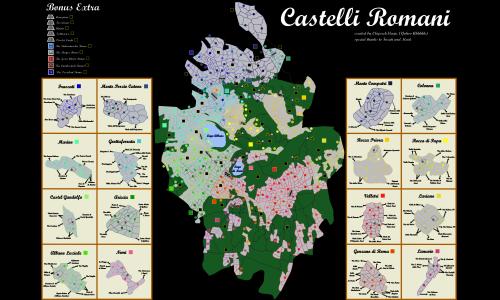 OligarchMagic's Huge Castelli Romani
Unlocks at level 10 or with the
Mega Maps Pack
Created by

OligarchMagic
(
all
)
Went public on 10/21/2020
Number of ratings: 19
Average rating: 4.0526 / 5
1387 territories, 414 bonuses, 0 distribution modes
Description
This map is based on the beautiful land of Castelli Romani (about 20 km far from Rome) in which I live. With its mountains, lakes, hills, old roman roads and ancient towns (some of them are even older than Rome itself) this place inspired me to create a map on it, as true as possible.
I hope you'll like the map and you can e-mail me at l.odorico97@gmail.com if you find missing connections or connections where they shouldn't be.
Reviews
Review by
pitulnik
on 12/2/2020.
The pats in the south are quite confusing but map itself is awesome. Lovely artwork
5 out of 6 people found this review helpful.
Review by

The Dude
on 1/21/2021.
Hey, we would like to play the map with local deployment & commerce, to do this I deactivated all overlapping bonuses, went through the map in detail several times, but there is still an overlapping bonus somewhere that cannot be found. : )
The map looks very good, can you help us?
0 out of 0 people found this review helpful.
Review by
bobby1646
on 10/23/2020.
No.
1 out of 18 people found this review helpful.