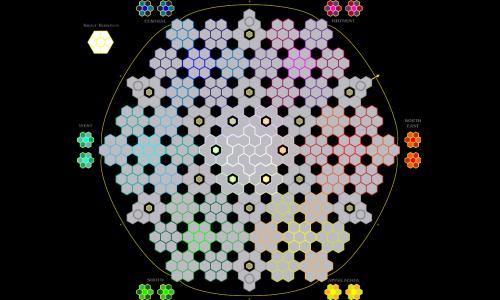 U-HEX-A (Hexagonal Melee)
#Novelty
Created by

MGH

(
all
)
Went public on 9/26/2020
Number of ratings: 64
Average rating: 3.9843 / 5
349 territories, 109 bonuses, 14 distribution modes
Description
Symmetrical play with multiple distribution modes and scenarios for 2-, 3-, and 6-player or team games.

Battle for control of 6 hexagonal regions named after cities and states of the United States. River territories at the edges create shortcuts across the board while bonuses named for other natural features connect regions in the interior. Special multiplier territories at the center of the map make state capitals more valuable. Super bonuses are awarded for controlling large territorial domains.

Concept and design by Al Doog. Coding by MGH.