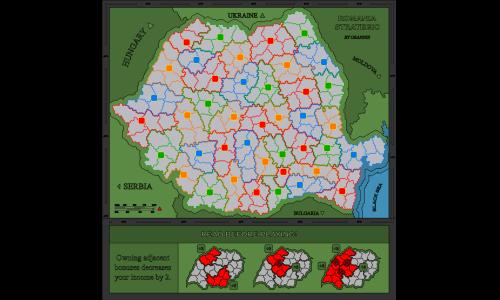 Romania Strategic
#Real World
#Strategic
Created by
Orannis
(
all
)
Went public on 8/25/2020
Number of ratings: 39
Average rating: 3.8717 / 5
196 territories, 142 bonuses, 0 distribution modes
Description
Owning bonuses that border each other will yield an income penalty of -2. The income for owning each bonus is still applied.

The bonuses correspond to the 41 counties of Romania. The municipality of Bucharest is merged with the surrounding county of Ilfov to form the bonus Ilfov-Bucharest.

The territories are made up, as Romania's 41 counties are divided into 2686 communes and 103 major settlements. A map this size would not be strategic.