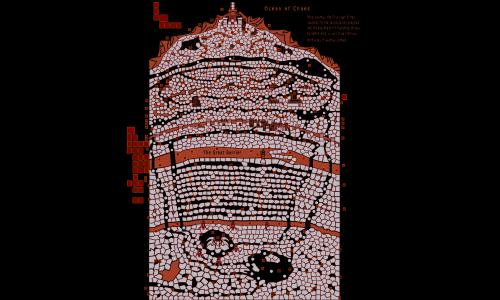 Hell - The Infernal Realm
Unlocks at level 33 or with the
Mega Maps Pack
Created by
joeydavis761

(
all
)
Went public on 8/28/2020
Number of ratings: 17
Average rating: 3.7058 / 5
1995 territories, 274 bonuses, 0 distribution modes
Description
Idea of a Scary Map was requested by Rick Sanchez and so I took on the challenge. The idea reminded me of my first normal fog FFA not knowing where the enemies were and so forth, so thought a large map of Hell for large FFA matches would be exciting for players as they clambor through the realm of evil.

Watch out for spring traps.

A great map to spill out your frustration against players you feel bitter resentment toward. Hope it's liked and appreciated by all audiences. Details are just part of the experience. Enjoy.
Reviews
Review by
Nathan

on 8/31/2020.
Incredible map - what a concept!

Alas, there are so many broken connections, particularly along rivers, that I can only give it 4 stars.

On a minor note, Trove should connect to Otherside. It's a huge dead end right now.
Response by map creator
joeydavis761

on 9/3/2020
Nathan, I'm working on an update to fix connections but am having trouble making a Local Deployment game. I'm currently looking into it before I release the update.

I know how you feel about Trove Bonus but I want the map only where say level 1 connects to level 2, level 2 connects to 1 and 3 --> I'm not particularly fond of level 3 connecting to 1 and 5 and so on, so at the moment have no plans on connecting levels that are nonadjacent or that aren't in chronological order.

Thanks for the feedback and appreciate the criticism.
2 out of 2 people found this review helpful.
Review by
okasan
on 9/7/2020.
Amazing map. The effort and creativity that went into naming places alone should be worth five stars. Game play can be a bit linear, and the start is slower than for most bigger maps. Still, tremendous fun.
One down note, quite a few missing links (in particular along the shipping lines). A few I noted were:
Mad Path - Ears Smite A Wailing
Revenge - Spiritual Gloom and Despendancy
Bathym - Alloces
Azael - Asmodeus
Antique Prow - Laden Bark
Wartenborg Wheel - Fettered Chains
Running Streams - Muddy and Turbid
Bitter Fumes - Leucasps and Orientes
I am also not sure whether I should be saddened or delighted that Chinese Water Torture does not lead to Eternal Pain.
Response by map creator
joeydavis761

on 9/12/2020
Lol, thanks okasan and appreciate the help. New update soon.
0 out of 0 people found this review helpful.
Review by
Zazzlegut

on 9/14/2020.
Good map for team or multiplayer games. Too big for small numbers of players.
0 out of 0 people found this review helpful.