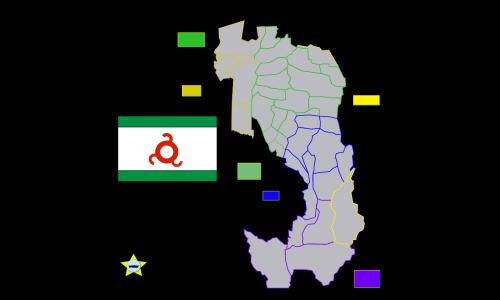 The Republic of Ingushetia
Unlocks at level 10 or with the
Mega Maps Pack
#Real World
Created by
Weter
(
all
)
Went public on 7/31/2020
Number of ratings: 22
Average rating: 2.7727 / 5
38 territories, 6 bonuses, 0 distribution modes
Description
The Republic of Ingushetia ( Russian: Респу́блика Ингуше́тия, tr. Respublika Ingushetiya Ingush: Гӏалгӏай Мохк, Ğalğaj Moxk), also referred to as simply "Ingushetia", is a federal subject of the Russian Federation (a republic), located in the North Caucasus region.

Its capital is the town of Magas. At 3,000 square km, in terms of area, the republic is the smallest of Russia's federal subjects except for the federal cities. It was established on June 4, 1992, after the Chechen-Ingush Autonomous Soviet Socialist Republic was split in two. The republic is home to the indigenous Ingush, a people of Vainakh ancestry and primarily Islamic faith. As of the 2010 Census, its population was 412,529.

?-Citys or villages don,t found.
Reviews
Review by
Zanoth

on 8/7/2020.
Inconsistent in whether corners will allow you to attack. Incomplete territory names. Poorly balanced.
4 out of 4 people found this review helpful.
Review by

Torsten

on 8/7/2020.
cool map just not split up enough so really based on who gets the capital
1 out of 1 person found this review helpful.