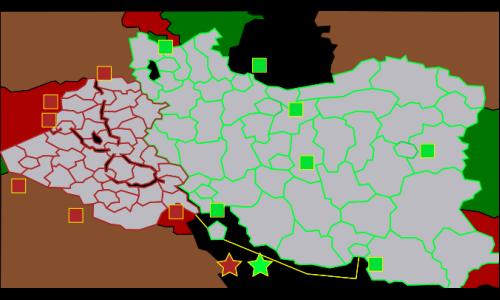 Iran-Iraq War
Created by
Nikitan
(
all
)
Went public on 7/31/2020
Number of ratings: 4
Average rating: TBD (needs 10 ratings)
88 territories, 15 bonuses, 5 distribution modes
Description
23 September 1980.

Iraqi bombers struck Iranian military and civilian targets, which after open war was declared. Iranian troops scrambled to meet Iraqi forces at the border, and forces engaged in combat across the 750-mile line. For the next eight years, the two nations would see up to 1.5 million casualties, and the suspected use of WMDs on both sides to inflict casualties. Will Iraq be able to defeat Iran after all, or will history replay and Iran defeat Iraq?

Best as a 1v1 map. 2v2s are also okay, but should be distributed using custom scenarios.

Best played using local distribution to simulate recruitment.

If you like this kind of map, please comment below and I will make more similar ones!