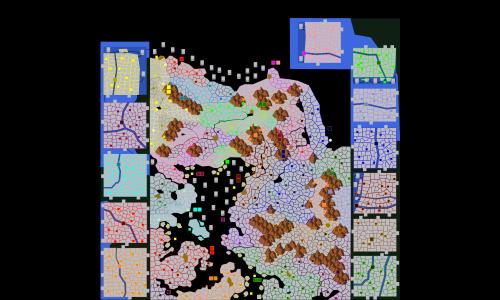 Daateron
Unlocks at level 5 or with the
Mega Maps Pack
Created by
joeydavis761

(
all
)
Went public on 2/15/2021
Number of ratings: 7
Average rating: TBD (needs 10 ratings)
2705 territories, 360 bonuses, 0 distribution modes
Description
Daateron- Is a large fantasy map I threw together, containing over 2700 territories and set on an ideal continent with mountains and major rivers. I added some major cities to give more dynamic gameplay.

Fun, interesting scenarios can be played if your up for hosting games and whatnot. Fun for Diplomacy games if you're into that sort of thing (like me every now and then), large Free For All's, and especially fun for large team games.

It was a fun and crazy process making this map and I hope everyone enjoys it.
Reviews
Review by
Nathan

on 2/17/2021.
Terrific, massive map! Great use of chokepoints throughout and fast travel (except on the eastern edge). The city links are easily seen without cluttering up the map with a bunch of lines. There are still a lot of broken connections and at least one connection that shouldn't exist, but surprisingly few for a map this size. Great work all around. Would like to see a few distributions included.

My only criticism - and it's really a personal preference - the bonus values are relatively low, meaning games take somewhat longer - especially cleanup in the east.
Response by map creator
joeydavis761

on 2/17/2021
I like the difficulty in moving as it gives the map a larger feel but only really if it's balanced throughout. Hope it's not too much of a problem. The bonus values are pretty low and not typically that appealing since I prefer larger bonuses to offer a larger income than smaller ones overall.

I like your thought on the distributions but for the forseeable future have no plans and leave it up to the game creators. I'm looking for any missing connections and plan to fix them in the update, thanks!
1 out of 1 person found this review helpful.