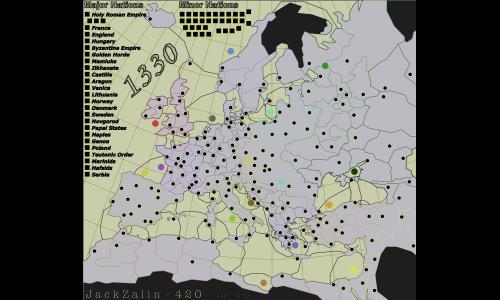 Europe Regions 1330AD
Unlocks at level 30 or with the
Mega Maps Pack
Created by
JackZ-420
(
all
)
Went public on 9/21/2020
Number of ratings: 14
Average rating: 3.7857 / 5
199 territories, 278 bonuses, 0 distribution modes
Description
Play in the European middle ages by crating your own templates: every territory is a bonus region.

1.1 - Minor fixes
Reviews
Review by
Mithrandir
on 9/23/2020.
Very nice map! 5 Stars. The centering of Minsk needs to be fixed because the bonus covers the army value. I did find 1 missing connection, but unfortunately I forgot what it was. Also the Dzukija territory looks funny with shading. I am not sure what's going on.
Response by map creator
JackZ-420
on 9/23/2020
Thank you for your review.
I will change Minsk's centering asap and double check connections again. I have no clue what's going on in Dzukija with that shade, I see it too.
Glad you liked the map :)
1 out of 1 person found this review helpful.
Review by

NikR

on 10/5/2020.
Values and bonuses are too high. Needs to be reconfigured
0 out of 0 people found this review helpful.