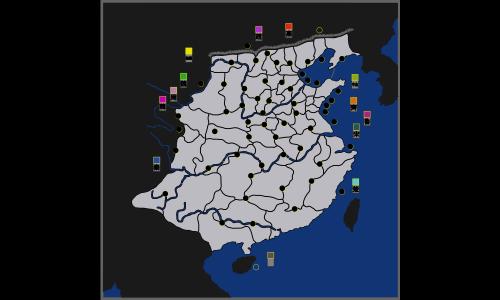 Warring States
Unlocks at level 40 or with the
Mega Maps Pack
Created by
Mudderducker

(
all
)
Went public on 6/23/2020
Number of ratings: 4
Average rating: TBD (needs 10 ratings)
56 territories, 69 bonuses, 0 distribution modes
Description
Based on the Warring States period 475-221 BC, before ultimately leading to the Qin Dynasty, the first unified Chinese Empire.

Commissioned map for Ekroth Ekronicus.
Reviews
Review by
Tillerpilletriller
on 6/23/2020.
I like it, short and simple. The army count for Wuqian province shows up on the other side of the river, between Hengshan (S) and Changsha. Can't tell if it's a mistake or by design. 5*
Response by map creator
Mudderducker

on 6/24/2020
That is a mistake, thanks letting me know!
2 out of 2 people found this review helpful.