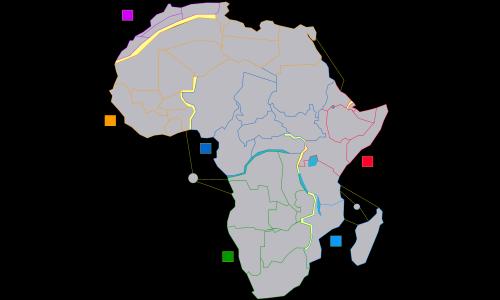 Africa (Exactly the same as the Small Earth Board Map)
Unlocks at level 7 or with the
Mega Maps Pack
Created by
Nikitan
(
all
)
Went public on 5/12/2020
Number of ratings: 8
Average rating: TBD (needs 10 ratings)
42 territories, 6 bonuses, 0 distribution modes
Description
The names not in brackets are the actual territory names. (The names in brackets are its corresponding name in the Small Earth Board Map.)
Reviews
Review by

Seleukos
on 6/19/2020.
Clever concept, nice execution.
Response by map creator
Nikitan
on 6/22/2020
Thank you. I have a missing connection between Ethiopia and Egypt, and I think the file size is waaaay to large for a 42-territory map, so both of those will be fixed in the next edition.

I also wanted to see how people react to a different formation of the territories, i.e. do visual effects affect strategies. It could be a social experiment. I have yet to find out, and will do so once I make edition 2.0.
0 out of 0 people found this review helpful.