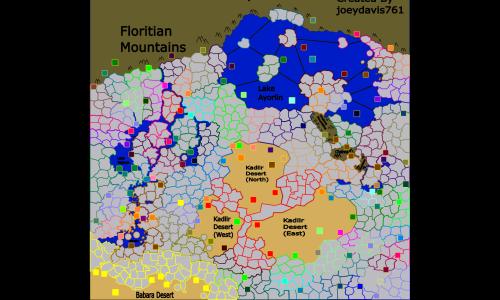 Kadiir Valley
Unlocks at level 31 or with the
Mega Maps Pack
#Fictional
Created by
joeydavis761

(
all
)
Went public on 6/2/2020
Number of ratings: 21
Average rating: 3.9047 / 5
564 territories, 120 bonuses, 0 distribution modes
Description
My Second Map, "Kadiir Valley", following "Another World," my first map, was thought up to be a more land-based map, than having half-land, half-ocean much like my first map. My main goal for this strategic map was to make it larger in comparison to the first one and also to insert rivers, deserts, and mountains for choke points, geographical barriers. I believe I have achieved these goals and kept balance in the process which is another matter any map-maker should respect when composing maps.

Like FFAs? This map is a great map for just that. A relatively medium-sized map that can accommodate a round-table of players. Enjoy clashing with opponents in defiance to seal a very palatable victory.

I'd like to give credit to krinid for helping name this map, in addition to others who participated, as well as the map-testers. A special thanks to them!
Reviews
Review by
Nathan

on 6/10/2020.
Great map, but a few broken connections and the lack of margins around the south, east, and west edges knock it down to 4 stars for me.
Response by map creator
joeydavis761

on 8/4/2020
Testers not well-informative. Thanks, will consider looking into an update.
1 out of 1 person found this review helpful.